'Tidings of Tap!' returns to Chicago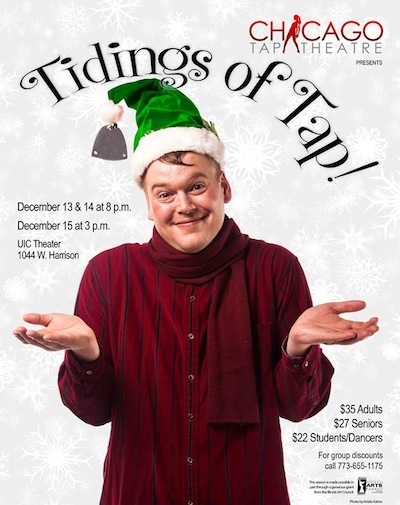 Chicago Tap Theatre will present Tidings of Tap!, a dance celebration of all things wintry, including pieces recognizing Christmas, Chanukah and the snowy season, on December 13-15 at the University of Illinois Chicago Theater.
For those tired of the same-old holiday entertainment, Chicago Tap Theatre has a show to freshly amaze and entertain! Featuring rhythm and whimsy-filled interpretations of favorite Christmas, Chanukah and winter songs, Tidings of Tap! is a fun-yet-sophisticated, family-friendly evening.
While this is a great family show, many people have also commented that it is truly enjoyable for all ages. Children and parents will love the end-of-the show number, where all the children are invited on-stage to dance and delight in the indoor snow. Parents are even allowed to take photos of their kids on stage.
Tidings of Tap!'s numbers are not only precisely executed, but excellently pre-planned. The music provides a charming underscore to the steps, with music created by the tappers during exciting bits like Carol of the Bells. Supporters of the "Name That Tune" game will delight in the show's several interludes.
"As an ensemble, CTT is tight – as a result of their clear familiarity with one another's moves and styles, their sound is perfect with nary a stray toe-heel," wrote Lauren Whalen on ChicagoTheaterBeat.com last year.
"Never preachy and rarely predictable" described critic Laura Molzahn, Tidings of Tap! will omit the sentimental glow often found in holiday productions and instead offer a fun, easy-breezy good time rejoicing in the season.
Tickets are now available and seating is general admission. For more information, visit www.chicagotaptheatre.com.