TITAS announces 2015-16 Season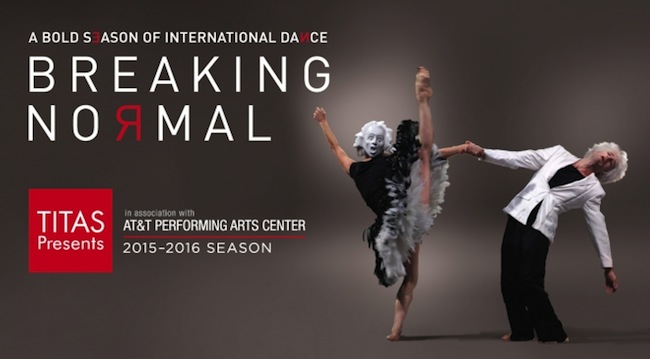 The Texas International Theatrical Arts Society (better known as "TITAS") has announced its 2015-2016 Season, named "Breaking Normal." A title that describes the collage that is the TITAS Presents 2015-16 Season, this name represents programming that features the world premiere of the Twyla Tharp 50th Anniversary Tour, of groundbreaking, trailblazing dance companies lighting up stages across the globe.
The AT&T Performing Arts Center in Dallas partners with TITAS Presents to host this bold and diverse season, which includes nine debut performances, two world premieres and an unprecedented roster of international artists.
Kicking off the season is the premiere of the Twyla Tharp 50th Anniversary Tour, set for September 18 and 19. Then Kyle Abraham/Abraham.In.Motion presents its avant-garde, contemporary aesthetic on October 29-30 before the Akram Khan Company brings its provocative movement of its British/Bangladeshi choreographer November 6-7.
Entering the New Year, Los Angeles-based BODYTRAFFIC hits the stage for one night only on Friday, January 22. Then Cloud Date Dance Theatre of Taiwan tours to Dallas for a performance scheduled for Friday, February 5.
Britain's beloved company of men, BalletBoyz, presents snips of its well-known, cutting-edge repertoire on Thursday, February 18. One month later on March 18-19, Mr. and Mrs. Dream brings a groundbreaking three-dimensional dreamlike world to Dallas, based on the writings of the absurdist playwright Eugene Ionesco.
The last three programs include: Cie Hervé KOUBI, a group of 12 male Algerian and West African dancers, presenting urban/contemporary dance on March 25-26; Canadian choreographer Crystal Pite's Kidd Pivot on April 21-22; and Complexions Contemporary Ballet on Saturday, May 21.
For more information, visit www.attpac.org/series/titas-2015-2016.