Tommy Tune to receive Capezio Dance Award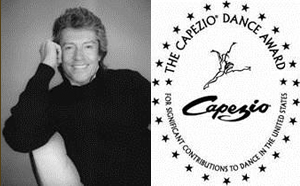 The Capezio Ballet Makers Dance Foundation has announced the selection of Tommy Tune as the recipient of the 61st annual Capezio Dance Award.
The Foundation is a philanthropic organization funded by dance footwear and apparel manufacturer, Capezio Ballet Makers, which this year celebrates its 125th anniversary. Awarded annually since 1952, the Capezio Dance Award recognizes significant contributions to American dance by an individual, company or institution. It is awarded to those who bring respect, stature and distinction to dance and who exhibit qualities such as innovation, creativity and imagination.
Known as one of the most prolific director/choreographers of the twentieth century, Tommy Tune has enchanted audiences over the past 50 years with his charisma, vision, and innovation, placing him within the pantheon of prior Capezio Dance Award honorees such as Jerome Robbins, Fred Astaire, Bob Fosse and Savion Glover.
Tune has been honored with nine Tony Awards celebrating him as a performer, choreographer and director and is one of only two individuals to receive Tonys in four different categories. In addition, Tune has been awarded eight Drama Desk Awards, three Astaire Awards and the Society of Directors and Choreographers' George Abbott Award for Lifetime Achievement. Tune has been honored with his own star on the legendary Hollywood Walk of Fame and is the recipient of The National Medal of Arts, the highest honor for artistic achievement given by the President of the United States. Mr. Tune was designated as a Living Landmark by the New York Landmarks Conservancy in 2009, which marked his 50th year in show business. Mr. Tune is currently appearing throughout the United States in his latest show, Steps In Time, A Broadway Biography in Song and Dance.

Renowned dancer and choreographer Ann Reinking will present the 2012 Capezio Dance Award to Tommy Tune at the gala celebration of Capezio's 125th anniversary, to be held at New York City Center on April 23.