Two Exciting Events for You in New York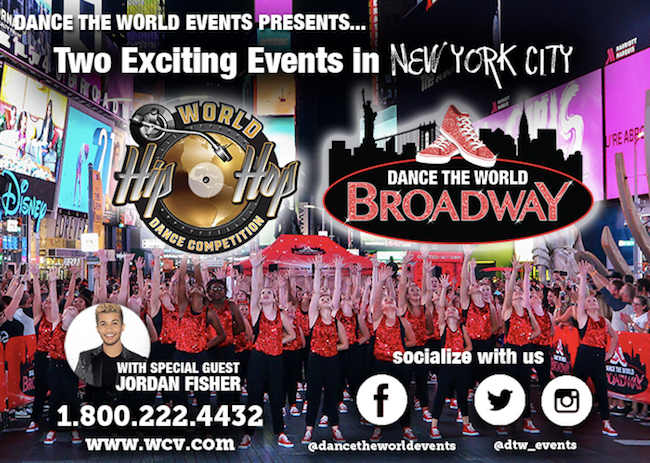 Dance The World Events has unveiled two exciting opportunities for dancers in the city that never sleeps! Dance The World Broadway will return from July 25-29, 2019, and will include the chance to perform in Times Square and on a Broadway stage! At the same time, Dance The World will present the brand-new World Hip-Hop Dance Competition!
Performers from all around the world are invited to take part in these incredible events! And there is still time to book for Summer 2019!
Dance The World Broadway presents a once-in-a-lifetime experience for participants. They will perform under the lights of Times Square with other studios from around the world; dance on an actual Broadway stage with their own choreography; take workshops from Ella Glasgow (America's Got Talent), celebrity guest Jordan Fisher (Hamilton and Dancing with the Stars) and Disney Cast Members. As if that isn't thrilling enough, participants then end the action-packed weekend with a luxury dinner and dance cruise around Manhattan!
On the other hand, the inaugural World Hip-Hop Dance Competition, led by Artistic Director Geo Hubela, will see hip-hop dancers compete on a Broadway stage in front judges who are leaders in the industry. Winners will receive large cash prizes and will perform in Times Square! Throughout the weekend, dancers can enjoy five different Hip-Hop Workshops from the judges.
Plus, dance teachers can plan on developing and expanding hip-hop programming at their studio thanks to the Hip-Hop Teacher Training being offered.
Like Dance The World Broadway, the World Hip-Hop Dance Competition will conclude with a celebratory Skyline Dinner and a dance cruise around Manhattan. The new Solo Battle winners will perform.
Mary Ann Kelley, director of dance events at World Class Vacations, commented, "It is so exciting watching the dancers perform on a Broadway stage and under the lights in Times Square. You can see the joy and excitement on their faces, knowing that all their hard work and dedication has paid off."
For more information and to learn how directors can travel for FREE, call 1.800.222.4432 or visit WCV.com.