UDMA Tour underway for 2017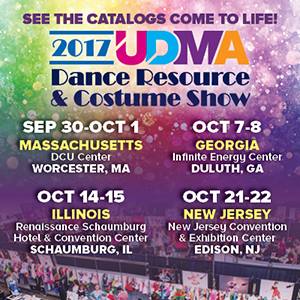 United Dance Merchants of America (UDMA) launched its 2017 Tour last weekend in Worcester, Massachusetts. This weekend UDMA will be connecting more dance teachers and studio owners with its dance vendors in Duluth, Georgia! Next up is Schaumberg, Illinois and then Edison, New Jersey. Besides the business seminar offered at each location, the entire Dance Resource and Costume Show is FREE to access!
UDMA's Dance Resource and Costume Shows promise inspiration, motivation and community. They're widely recognized as the premier events linking exceptional dance vendors with dance teachers and studio owners from all over the world. Attendees can expect to see a plethora of dance costumes, brilliant accessories, dancewear and shoes, and companies offering advanced teaching tools that will energize your business.
Dance Informa will be at the Georgia, Illinois and New Jersey events coming up! Be sure to come out and stop by our booth to say hello, to sign up for your free Dance Informa subscription, and to enter to win a dance trip for two to Australia! Courtesy of Energetiks and Dance Informa, one grand-prize winner will receive return flights for two people to Australia, five nights' accommodation, two entry passes to the 2018 Victorian Dance Festival (February 16-18 in Melbourne) and a $500 Energetiks shopping spree!
Find out more about UDMA's Dance Resource and Costume Shows at www.udma.org. Registration is 100% free so don't miss this!
---