Utah premiere of Ashton's 'Cinderella'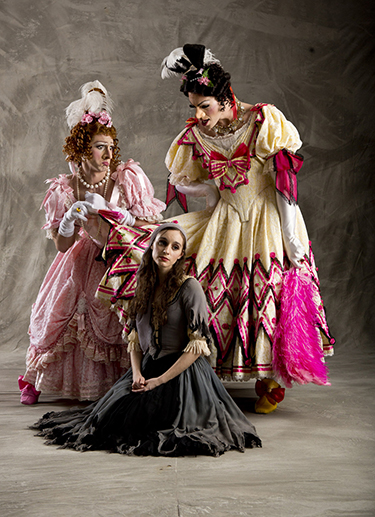 Ballet West's 2012-2013 season will continue with the Utah premiere of Sir Frederick Ashton's Cinderella. Widely considered the greatest ballet interpretation of this timeless fairytale, Ashton's Cinderella is an enchanting fantasy full of splendor, humor and magic. Set to Sergei Prokofiev's classic score, Cinderella will take place at the Capitol Theatre in Salt Lake City in 10 performances on February 14-17 and 20-23. The performances will be accompanied by the Utah Chamber Orchestra under the baton of Guest Conductor Adam Flatt and Associate Conductor Jared Oaks.
"With this production, Ballet West becomes only the second company in America given the rights to present this renowned, charming and glorious version of Cinderella," said Adam Sklute, Artistic Director of Ballet West. "Presenting this work is an honor for the company and sets Ballet West alongside the greatest ballet companies in the world."
Performed in three acts, Cinderella is a rags-to-riches fairytale about a downtrodden young girl, a glass slipper and a handsome prince – all brought together by a fairy godmother. Ashton creates a mysterious and magical world where pumpkins become coaches, rags turn to ball gowns, and the comedy of Cinderella's pantomime stepsisters – portrayed, as is tradition, by male dancers – provides the perfect foil for the developing romance of Cinderella and the Prince.
Sir Frederick Ashton joined The Royal Ballet of London as choreographer when the company was founded in 1931 and served as its Artistic Director from 1963 to 1970. When Cinderella premiered at the Sadler's Wells Ballet (London) in December 1948, it was not only Ashton's first full-evening ballet, but also the first production in the West to use Prokofiev's hauntingly brilliant score, which was composed specifically for Ashton's choreography. Ashton later revised and restaged Cinderella for The Royal Ballet in 1965. Wendy Ellis Somes, a former principal dancer with The Royal Ballet, staged and directed Ashton's Cinderella for Ballet West, assisted by Malin Thoors, Ballet Mistress for The Paris Opera Ballet. The production boasts breathtaking sets and costumes designed by David Walker.
"Working with Wendy Somes is an amazing gift for Ballet West's dancers. They have the opportunity to learn and absorb the choreography and theatricality directly from the source," Sklute said. "Wendy danced numerous roles in the ballet Cinderella, including Cinderella herself, and she did it all under the direct tutelage of Ashton. Being able to get these kinds of first hand details is an unforgettable gift for my dancers."
Cinderella will be presented at the Capitol Theatre, located at 50 West 200 South, Salt Lake City. The show will run for 10 performances, February 14-17 and 20-23. There will be three different casts performing.
Single tickets, priced from $19 to $75, are available for purchase at all ArtTix locations by calling (801) 355-ARTS or online at www.arttix.org. Discounts are available for groups of 15 or more by calling Ballet West's groups sales service at (801) 869-6901.
In conjunction with the performances of Cinderella, Ballet West offers Warm Ups. These fun and informative discussions are free of charge to ticket holders and will begin promptly one hour prior to each presentation of Cinderella. Get the inside scoop on the evening's program, including background on the ballet, information on the choreographer and other interesting behind-the-scenes facts. At Warm Ups, members of the Ballet West artistic staff are available to answer any questions that the audience might have.
For more information about Ballet West, call 801-869-6900 or visit www.balletwest.org.
Photo: Cinderella and her stepsisters in Ballet West's production of Sir Frederick Ashton's Cinderella. Photo courtesy of Ballet West.