Vail Dance Festival reveals 2017 Season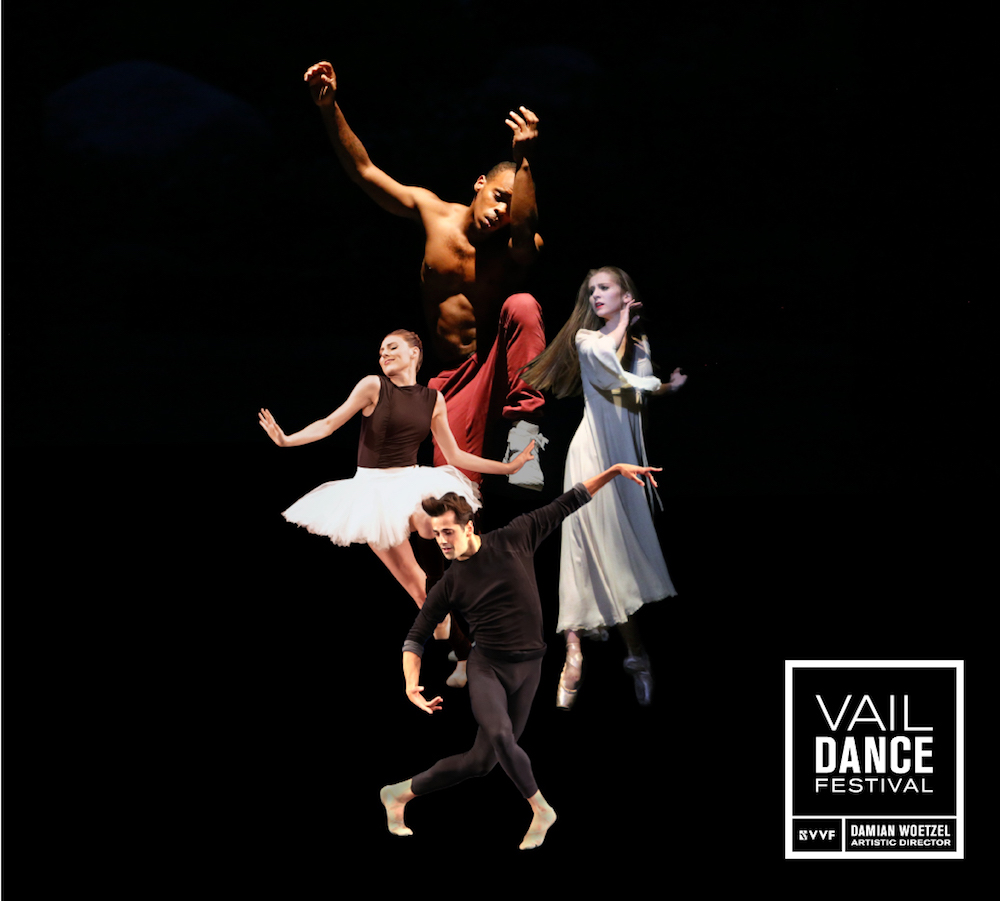 On July 29, the Vail Dance Festival kicks off its 29th year with a season of new collaborations, artist debuts, and world premieres. Directed by former New York City Ballet star Damian Woetzel, the 2017 season will run through August 12 and will feature the tap dance innovator and MacArthur 'Genius' Grant recipient Michelle Dorrance as Artist-In-Residence. As part of her residency, Dorrance will anchor the festival's annual night of world premieres, which this year will celebrate new work by women choreographers.
The season also focuses on choreographer Jerome Robbins (1918- 1998) and composer Leonard Bernstein (1918-1990) in anticipation of their joint 2018 centennial anniversary. In honor of these two towering American artists, the festival will feature their groundbreaking works on various performances. Robbins will be celebrated in the UpClose performance and a new work choreographed by Matthew Neenan and set to Mr. Bernstein's music will premiere on the International Evenings of Dance. Plus, the Leonard Bernstein Composer-in- Residence program will launch with Pulitzer Prize-winning composer Caroline Shaw in this new role.
"Collaborations by Jerome Robbins and Leonard Bernstein were a key part of my onstage career at NYCB, and these artistic giants remain a powerful inspiration for me," said Festival Director Damian Woetzel. "I am honored to be celebrating them and building on their work this summer."
Among new artists at the festival will be Royal Ballet rising stars Francesca Hayward and Marcelino Sambé, Miami City Ballet's Patricia Delgado, and American Ballet Theatre's Marcelo Gomes, who join frequent festival performers including Isabella Boylston, Misty Copeland, Carla Körbes, Misa Kuranaga, Tiler Peck, Unity Phelan, Devon Teuscher, Melissa Toogood, Lil Buck, Jeffrey Cirio, Robert Fairchild, Calvin Royal III, Daniel Ulbricht, Jared Angle, James Whiteside, Ron Myles, Joseph Gordon and Lauren Lovette.
NYCB Principal Lauren Lovette will also be one of the female choreographers presenting a world premiere commissioned by Woetzel. For the NOW: Premieres program, her work will be featured beside premieres by Dorrance, neoclassical and contemporary ballet choreographer Claudia Schreier, and acclaimed modern dance choreographer Pam Tanowitz.
Benjamin Millipied's L.A. Dance Project will also make its festival debut in 2017. Companies returning to Vail include the Martha Graham Dance Company, BalletX, and Denver's Colorado Ballet and Wonderbound companies. Musicians appearing include the string quartet Brooklyn Rider, singer and multi- instrumentalist Kate Davis, pianist Cameron Grant, the Breckenridge Music Festival Orchestra, and in a new festival role of Conductor and Musical Director, Kurt Crowley, who is currently conducting Hamilton on Broadway.
The Vail Dance Festival performances take place at the Gerald R. Ford Amphitheater in Vail and the Vilar Performing Arts Center in Beaver Creek. Tickets go on sale to the public February 28. For more information, call 970-777-2015 or visit www.vaildance.org.
Photo: Festival favorites Tiler Peck, Robert Fairchild, Lil Buck, and Carla Körbes are slated to return for the 29th Vail Dance Festival. Photos by Erin Baiano. Design by Shahid & Co.