VIBE Dance Workshop registration ends soon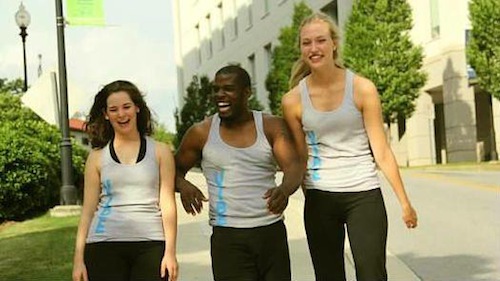 VIBE Dance Workshop is returning to Atlanta this summer after kicking off its inaugural season last year. Dancers have until Thursday, May 1 to register for this summer's workshops.
VIBE, led by co-directors Tara Shepard Myers and Emily Yewell-Volin, provides daily classes in barre strengthening, jazz, contemporary and hip-hop taught by current industry professionals performing, choreographing and networking in the field of dance.
Held at the Dance Studio at Emory University's Schwartz Center for Performing Arts, VIBE will offer two sessions, one for each age group. The first session for 9 to 12 year olds will be offered June 16-20. The second session for ages 13 and up will be offered June 23-27. Classes run from 10 a.m. to 5 p.m. for five days per session.
VIBE Dance Workshop was started last year when Myers and Yewell-Volin noticed an Atlanta-area need for concentrated dance study taught alongside top-quality technique and placement classes.
Emily Yewell-Volin said, "Tara and I hope to see you or your students at VIBE Dance Workshop 2014. We created VIBE Dance Workshop as the summer intensive we wish had existed when we were ages 9-21. The resulting two weeks of workshop are full of current movement trends and the pursuit of technical virtuosity alongside a focus on increasing the versatility and marketability of every dancer enrolled."
This year's returning faculty will include: Joshua Blake Carter, an Atlanta native who currently performs with Giordano Dance Chicago and serves as director to GDC's second company, Giordano II; Rachel Erin Truitt, a freelance dancer who is artistic director of Gotta Dance Contemporary Company and is dancing and choreographing for The Movement and INduztry talent agency; and Julia Friedman, who has worked with choreographers Aakomon Jones, Jasmine Guy, Michael Peele, Dan Karaty, Kiki Eli, Sean Bankhead and Jason Cabacungan.
New faculty for the 2014 workshops will include: Allison Michalke Gupton, a choreographer working with Atlanta's Fabrefaction Theatre Company; Ethan Kirschbaum, who performs with River North Dance Chicago and teaches at Chicago's Lou Conte Dance Studio; and Bridget Roosa, the Associate Professor of Dance and the Director of the Dance Program at Agnes Scott College in Decatur.
The tuition for a workshop is $500, with $250 being needed at time of registration. Registration is open online through May 1. For more information or to register, visit www.vibedanceworkshop.com. The website also includes additional details about suggested hotel accommodations, workshop pricing, parking and class schedules.
Photo courtesy of VIBE Dance Workshop.