Visceral Dance Chicago in Spring Program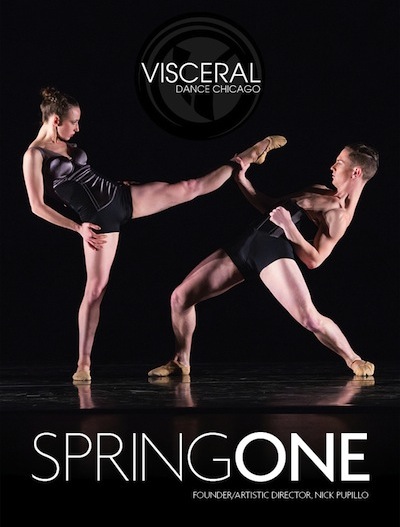 Visceral Dance Chicago, launched in fall 2013 under the artistic direction of Nick Pupillo, returns to Chicago's Harris Theater for Music and Dance on April 12 and 13. The company presents new works and world premieres by Pupillo and three female contemporary choreographers: Sidra Bell (of Sidra Bell Dance New York), Mónica Cervantes (formerly of Luna Negra Dance Theater) and Chicago native Robyn Mineko Williams (formerly of Hubbard Street Dance Chicago).
Pupillo's two works, duet Senza di te and 10-member Impetere, premiered in November 2013. These works showcase Pupillo's choreographic range, from seamless and sensual to athletic and powerful. Bell's landings, chasms explores human relationships and intimacy through movement, within a stage environment stripped bare and transformed by lighting designer Brian Sidney Bembridge.
Completing the company's spring program are two world premieres. Changes by Mónica Cervantes imbeds snapshots and vignettes from daily life within compelling and abstract ensemble movement. Glint by Robyn Mineko Williams, a 2013 recipient of a Choreography Fellowship from the Princess Grace Foundation–USA, is comprised of five dancers in Williams' now-signature blend of rigorous composition, idiosyncratic gesture and complex rhythmic structures.
Performances are on Saturday, April 12 at 7:30 p.m. and Sunday, April 13 at 3 p.m. at the Harris Theater for Music and Dance in Millennium Park, located at 205 East Randolph Drive in Chicago.
For more information or to order tickets, visit visceraldance.com or harristheaterchicago.org.
Photo by Cheryl Mann, image courtesy of Visceral Dance Chicago.