VKIBC announces 2013 results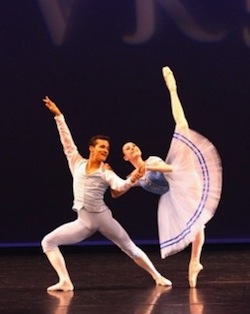 The Valentina Kozlova International Ballet Competition (VKIBC), formerly known as the Boston International Ballet Competition (BIBC), is a worldwide ballet competition that was started in 2011 by Valentina Kozlova, a former Principal Dancer with Bolshoi Ballet and New York City Ballet. The competition takes place every other year and gives student and professional dancers ages 13 to 25 years old an opportunity to compete in a positive environment for various prizes. This year's competition took place June 27-30 at LaGuardia High School for the Performing Arts in New York City.
Out of the nearly 100 participants, the results for the 2013 competition named four senior female medalists, three senior male medalists, four junior medalists and four student prizewinners.
For receiving the Senior Female Gold Medal, Chae-Eun Yang of South Korea was given $5,000. For receiving the Senior Female Silver Medal, Min-Jung Kim of South Korea was given $2,000. The Senior Female Bronze Medal was given to two dancers, Assel Kumarova of Kazakhstan and Ekaterina Smurova of Russia, for $500 each.
For receiving the Senior Male Gold Medal, Ji-Seok Ha of South Korea was given $5,000. For receiving the Senior Male Silver Medal, Kota Fujishima of the United States was given $2,000. Lastly, for the Senior Male Bronze Medal, Yubal Eduardo Morales Rubio of Mexico was given $1,000.
In the Juniors division, Carollina Bastos of Brazil was awarded the Gold Medal, Sakura Oka of Japan and Jeovanna Simoes of Brazil tied for the Silver Medal, and Hannah Park of the United States was given the Bronze Medal.
In the Students categorization, First Prize went to Demitra Bereveskos and Second Prize to Nations Wilkes-Davis, both of the United States, while Third Prize went to two participants who tied, Nikita Boris of the United States and Ximena Emiliani of Panama.
In addition, 11 company contracts were offered and accepted, including to Ji-Seok Ha of South Korea being offered a position with the Washington Ballet Studio Company for the 2013-2014 Season. Plus, more than 20 scholarships to train and perform were also presented to select dancers. For full results and award listings, click here.
Following this 2013 competition, VKIBC also announced plans to expand artistically. In association with the Maris Liepa Foundation of Russia, VKIBC will be working on a sister competition to take place in Moscow in 2014.
In 2014 as well, VKIBC is starting its first International Contemporary Choreographers and Dancers Competition. It will take place on April 28 and 29 at Symphony Space Theater in New York. Solos, duets and ensembles will be on the menu with no age limit.
VKIBC will happen next in 2015, and every second year thereafter, in rotation with Moscow. For more information on VKIBC, visit www.vkibc.org. More information on VKIBC 2015 will come in the months ahead, but not before early 2014.
Photo: Demitra Bereveskos of the United States and Solieh Samudio of Panama perform during VKIBC 2013. Photo © Yelena Yeva, courtesy of VKIBC.