Winifred Haun collaborates on new work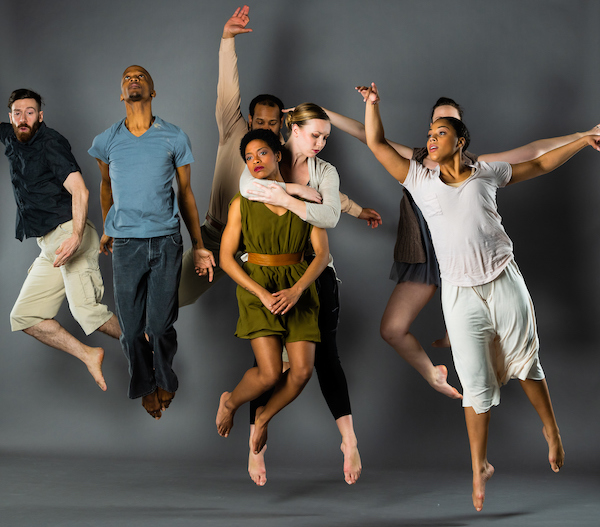 Winifred Haun & Dancers in Chicago will premiere an important new dance, I am (not) this body, on November 3 at the Studebaker Theater. I am (not) this body is a first time collaboration between Artistic Director Winifred Haun and Assistant Artistic Director Solomon Bowser. This new work explores how we view "different" bodies (the bodies of women, children and people of color), and how those bodies and the humans inside them seem to be invisible or to have less value.
I am (not) this body is an ensemble work danced in three seamless sections. In an effort to help reveal the humanity of the dancers, the work, which comes after intermission, will open with performers greeting audience members in the house and from the stage.
Additional events for this premiere include a masterclass before the performance and a VIP event. The masterclass, taught by Bowser, is for intermediate and advanced dancers and begins at 5 p.m. on the stage at the Studebaker Theater. The masterclass fee is $30 and includes a free ticket to the 7:30 p.m. performance.
A special VIP Event will start at 6 p.m. in the lobby of the Studebaker Theater. VIP tickets are $55 each and include a wine reception, performance, special seating and a commemorative gift.
This engagement will also include Bento, a group work from 2011 that takes its inspiration and choreographic choices from the works of others, and Don't Linger Too Long (2013), which explores the isolating effects of being with family. The solo in Bento will be danced by company dancer Summer Smith. Ariel Dorsey, a company dancer since 2013, will be the featured soloist in Don't Longer Too Long.
The Studebaker Theater is located at 410 S. Michigan in Chicago, in the Fine Arts Building. Book basic tickets to the performance at artsentertainment.thundertix.com. For VIP or masterclass tickets, head to www.brownpapertickets.com.
For more information on this event and Winifred Haun & Dancers, go to www.WinifredHaun.org.
Photo courtesy of Winifred Haun & Dancers.