Winning Works by Joffrey Academy of Dance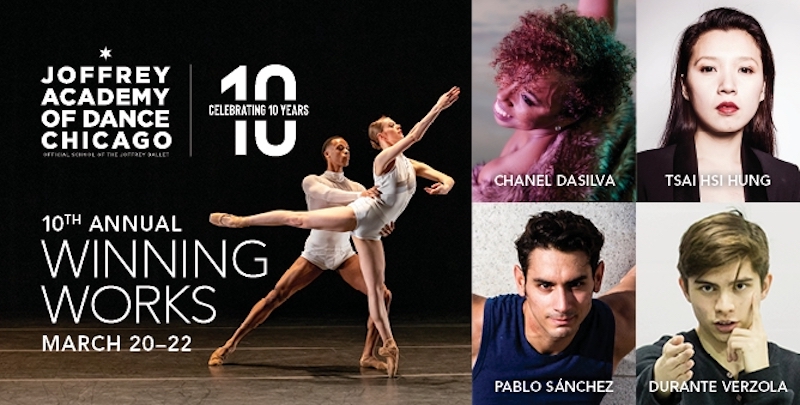 The Joffrey Academy of Dance, Official School of The Joffrey Ballet, is thrilled to have announced the recipients of the tenth annual Winning Works Choreographic Competition: Chanel DaSilva, Tsai Hsi Hung, Pablo Sánchez (recipient of the inaugural Zach Lazar Winning Works Fellowship, named in honor of former Joffrey Board Chair Zach Lazar), and Durante Verzola. Winning Works will be presented at the Museum of Contemporary Art Chicago Edlis Neeson Theater, 220 E. Chicago Avenue March 20-22, 2020. Tickets are now on sale!
This announcement follows a national call for ALAANA (African, Latinx, Asian, Arab and Native American) artists to submit applications, which began in May. The choreographers' world premiere works will be showcased on the members of the Joffrey Studio Company and the Joffrey Academy Trainee Program this March.
The Winning Works Choreographic Competition was created to recognize talented and emerging ALAANA choreographers and to provide them with a platform to showcase their original and innovative work. The winning choreographers are awarded a $5,000 stipend and are given the opportunity to seek guidance from The Mary B. Galvin Artistic Director of The Joffrey Ballet, Ashley Wheater, and Academy Director Raymond Rodriguez.
"Ten years ago, we began Winning Works with high hopes and expectations," said Wheater. "Based on the talent of our numerous winners and the depth of their art, we have succeeded in such incredible ways. This year's winners bring the same level of extraordinary artistry to the stage once again. I am so excited to welcome them as our newest Winning Works alumni and to see their original works presented to Chicago audiences this spring. The Joffrey is committed to giving choreographers of all backgrounds a voice."
For further information visit: here