YAGP presents week chockfull of events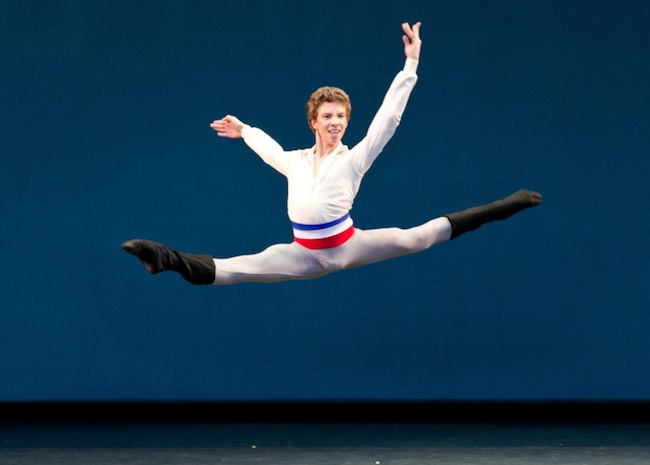 The world's largest dance network and international student ballet scholarship audition—Youth America Grand Prix—will host the 2015 Final Round on Wednesday, April 15.
After 6,636 young ballet dancers aged 9 to 19 have spent the last few months dancing around the globe for entry, the chosen 1,204 finalists are now in New York competing. Of those, less than 100 will be given a spot in the Final Round.
Open to the general public, the Final Round will give its New York audience a unique opportunity to see these top-notch dancers before they disperse around the world to study on scholarship at the world's leading dance academies. Each year, more than $300,000 in scholarships is presented to winners.
Following the Final Round, YAGP will present its signature "Stars of Today Meet the Stars of Tomorrow" Gala on Thursday, April 16, at the David H. Koch Theater at Lincoln Center. The Gala will feature the finalists of the international ballet competition performing alongside today's most celebrated ballet stars – many of whom are alumni of YAGP.
"Youth America Grand Prix is all about creating opportunities for dancers to further themselves professionally, and we are always especially proud to feature our alumni in any performance we organize – they are our true success stories," stated YAGP Founder Larissa Saveliev.
This year's program will feature Paloma Herrera, one of the most beloved dancers performing today, in Mauricio Wainrot's Verano Porteño. Soon retiring from American Ballet Theatre, Herrera will perform with partner Juan Pablo Ledo of Teatro Colón, Argentina. The piece will be executed to live accompaniment by the Toomai Quintet with violinist Dmitri Berlinsky.
The world premiere of Alexei Kremnev's Windy Sand will also be presented, featuring dancers from The Joffrey Ballet. The piece is set to original music by composer Karen LeFrak, as performed by pianist Tatiana Goncharova. It will introduce costumes by internationally renowned fashion designer and YAGP board member, B Michael.
YAGP's "Emerging Choreographer Series" will premiere a ballet by Anton Pimonov of the Mariinsky Ballet. It will feature the rising star of Mariinsky Ballet, Kristina Shapran, and YAGP alum Calvin Royal III, now dancing with American Ballet Theatre.
Next, New York City Ballet's Teresa Reichlen and Zachary Catazaro (an YAGP alum) will perform a world premiere by Guggenheim artist Emery LeCrone. This work is set to Mozart's Menuet from String Quartet No. 15, which will be performed live by the musicians from the Toomai Quintet, and presents costumes by B Michael. The program will also premiere Ballet 101 by German choreographer Eric Gauthier.
In addition, the program will feature the New York professional debut of two YAGP alumni, The Royal Ballet's Melissa Hamilton ("Grand Prix" Award winner from YAGP 2007) – who, together with Edward Watson, will perform Wayne McGregor's Qualia – and The Mariinsky Ballet's Kimin Kim ("Grand Prix" Award winner from YAGP 2012), who will perform the classic pas de deux from Le Corsaire with a fellow YAGP alumna, Isabella Boylston of American Ballet Theatre.
"Dancers like The Royal Ballet's Melissa Hamilton are a perfect example of what YAGP does best," Saveliev noted. "Unnoticed at the audition, Melissa was not even admitted to The Royal Ballet School; but she did not give up, she worked very hard to improve – and, after her success at the competition, she was discovered and invited to join The Royal Ballet company."
The Gala, which is underwritten by Bulgari, will also include performances by Xander Parish (Mariisnky Ballet), Semyon Chudin and Ekaterina Krysanova (Bolshoi Ballet), as well as international ballroom champions Denys Drozdyuk and Antonina Skobina. For tickets, visit davidhkochtheater.com or call 212-496-0600.
However, if you miss this one-night-only performance, you still have a chance to see some exceptional international talent in the David H. Koch Theater with the "David Hallberg Presents – Legacy" Program on Friday, April 17 at 7 p.m. In this program, celebrated international ballet star David Hallberg will offer an intimate look at the world-renowned ballet companies as they perform varied and rarely-seen contemporary works, representative of each preeminent institution. Hallberg will introduce each company and share an insider's perspective on the works.
This program will feature: The Tokyo Ballet in its U.S. debut, performing Bakhti III, a rarely-seen work by Maurice Bejart set to traditional Indian music, and featuring the company's biggest stars, Mizuka Uena and Kazuo Kimura; The Australian Ballet's Amber Scott and Rudy Hawkes in Unspoken Dialogues by choreographer Stephen Baynes; an ensemble of dancers from The Mariinsky Ballet, led by the famed Ekaterina Kondaurova, in Anton Pimonov's piece Choreographic Game 3×3; Bolshoi Ballet dancers in a contemporary works from the theatre's repertoire; and the ABT Studio Company in a new piece by choreographer Pontus Lidberg.
"Over the course of my career, having developed relationships with some of the world's leading dance companies, I have experienced these institutions as not only a performer, but a viewer as well. I have seen them from every viewpoint behind-the-curtain; a synthesis between insider and outsider," said Hallberg.
"Every company has its own texture, vocabulary and singular place in dance history, and I have always wanted to share my perspective of these world-renowned institutions," Hallberg continued. "This unprecedented evening gives me the chance to present to the audience my first-hand, personal perspective on these extraordinary ballet companies as they perform repertoire unique to each respective institution."
Tickets start at $45 for the "David Hallberg Presents – Legacy" Program and are available at the David H. Koch Theater Box Office. For more information on YAGP and its events, visit www.yagp.org.
Photo: 2014 YAGP Finalist Rodrigo Pinto, a 14-year-old competitor from Escola De Ballado Espaco Danca in Portugal. Photo by Liza Voll.