BellaMoxi is adding a Nationals!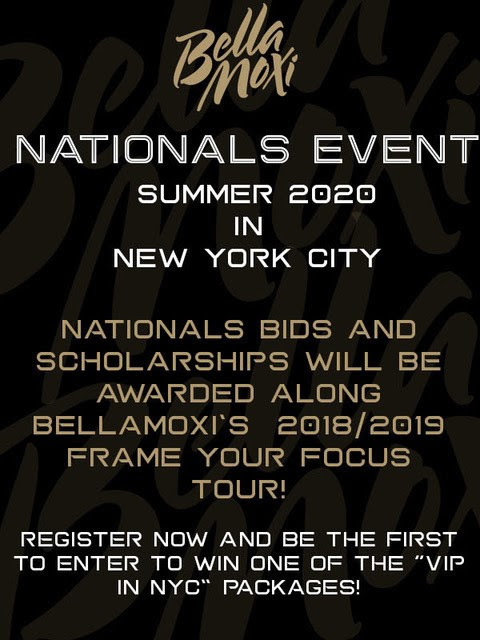 BellaMoxi Dance Convention, Competition and Festival is heading into its fourth season, the Frame Your Focus Tour! These events are more than a dance convention; they are an experience. Each weekend brings opportunities like no other, beginning as soon as you walk in the door.
Friday night features the Choreographic Festival, an opportunity for budding artists to showcase their choreography for the chance to win a cash prize and more. Classes are filled with instruction, education and energy from top choreographers across the industry, such as Bobby Newberry, Alex Little and many more.
Now BellaMoxi has announced that it is adding a Nationals Event in Summer 2020 in New York City! National Bids and Scholarships will be awarded along BellaMoxi's 2018-2019 Frame Your Focus Tour (see locations and dates listed below).
To watch the details of Nationals unfold, follow BellaMoxi on Instagram.
"We acknowledge the grit that is put in by dancers and create opportunities for dancers to achieve their dreams," says BellaMoxi's leadership team.
Register for BellaMoxi's upcoming Frame Your Focus Tour events at Bellamoxi.mydanceregister.com/login.php.
BellaMoxi 2018/2019 Tour Dates
BOWLING GREEN, KY | JANUARY 25-27, 2019
CHARLOTTE, NC | FEBRUARY 1-3, 2019
CHICAGO, IL | FEBRUARY 8-10, 2019
PHILADELPHIA, PA | FEBRUARY 16-17, 2019
DALLAS, TX | MARCH 22-24, 2019
ORLANDO, FL | MARCH 29-30, 2019
PHOENIX, AZ | APRIL 12-14, 2019
BURBANK, CA | APRIL 26-28, 2019