2015 Prix de Lausanne finalists announced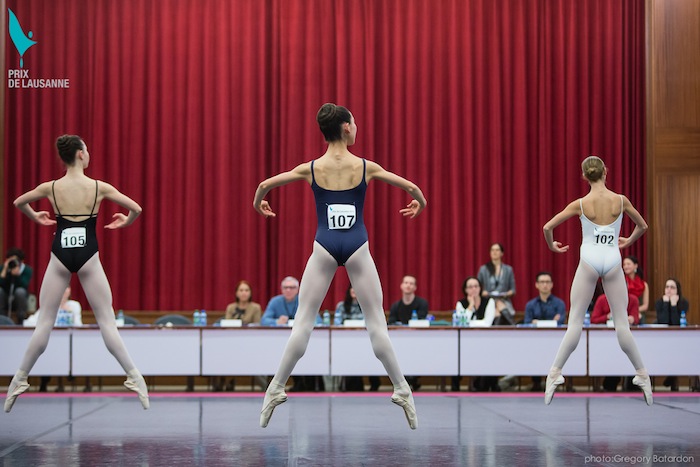 Among the 67 candidates who took part in the 2015 Prix de Lausanne's Selections on Friday, February 6 in Switzerland, the jury has selected 20 finalists. (See names below.)
The jury panel, whose members are among the most celebrated in dance worldwide, is being presided over by the legendary Cynthia Harvey, a former principal dancer at American Ballet Theatre in New York and The Royal Ballet in London.
These 20 young dancers listed below will take part in the Finals on Saturday, February 7 at 3 p.m. in front of a live audience and streamed live on the Internet. Six of the finalists will be awarded a one-year, all-expenses-paid scholarship at one of the Prix de Lausanne's partner schools or companies, among the most prestigious in the world.
GIRLS
102, Bianca Scudamore, Australia
105, Sierra Armstrong, USA
106, Seon Mee Park, South Korea
107, Amber Ray, USA
108, Rebecca Blenkinsop, Australia
301, Rina Kanehara, Japan
302, Jisoo Park, South Korea
306, Lou Spichtig, Switzerland
320, GaYeong Lee, South Korea
BOYS
202, Bret Coppa, USA
203, Austen Acevedo, USA
204, Harrison Lee, Australia
205, Navrin Turnbull, Australia
210, Jarod Curley, USA
401, Miguel Pinheiro, Portugal
402, Julian MacKay, USA
406, Jack Thomas, USA
409, Mitsuru Ito, Japan
416, Shogo Hayami, Japan
419, Syvert Lorenz Garcia, Norway
Through the Prix's Networking Forum, candidates who were not selected for the Finals still benefit from the opportunity to be seen by school and company directors from around the world. Following an audition class, interviews are organized with directors of Prix de Lausanne partner schools and companies wishing to recruit one or more candidates. Interviews with finalists who do not receive a prize are also arranged after the award ceremony.
Head to www.prixdelausanne.org to watch the live streaming competition. While the jury deliberates after the Finals, viewers will enjoy a short performance by former prizewinners and dancers from the competition's partner institutions. This year, this includes Karen Azatyan, a current soloist at Germany's Hamburg Ballet, and Arsen Mehrabyan, a current principal at The Royal Swedish Ballet – plus Vahe Martirosyan, a first soloist at The Royal Swedish Ballet.
Photo: From left, Finalists Sierra Armstrong (USA, 105), Amber Ray (USA, 107) and Bianca Scudamore (Australia, 102) in class at the 2015 Prix de Lausanne. Photo by Gregory Batardon.