Ad Deum prepares for an eventful summer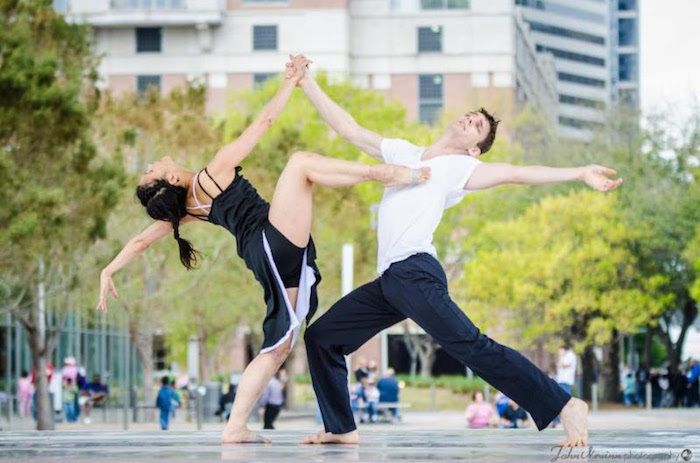 Houston-based Ad Deum Dance Company, directed by Founder Randall Flinn, is preparing for a busy summer. Beginning in June, the organization will present concerts in its home city, host its summer intensive, travel to a teaching conference, hold company auditions, tour to Europe for outreach activities and visit cities along the eastern seaboard.
CONCERTS
First up, Ad Deum II (AD2) will present its spring dance concert Amazing Grace on Friday, June 9 at 8 p.m. at the Midtown Arts & Theater Center in Houston, TX.
The next two nights (June 10 and 11) Ad Deum and AD2 will co-present Journey Back To Love, a program of "inspirationally passionate dance artistry" that will highlight the powerful and transforming virtue of love.
HOUSTON INTENSIVE
The 2017 Ad Deum Summer Intensive will be June 11-17. In addition to Director Randall Flinn, the faculty includes: Steve Rooks, former principal dancer with Martha Graham Dance Company and a professor/choreographer for Vassar College; Alicia Graf Mack, former lead dancer with Alvin Ailey American Dance Theater; Bill Wade, the artistic director of Inlet Theatre; Betsy McMillan, former professor of dance/choreography at Belhaven University and artistic director of Vivid Contemporary Ballet; Laura Morton, professor of dance at Belhaven University; and Cynthia Newland, also professor of dance at Belhaven University.
Company auditions will be held during this Summer Intensive. Meanwhile, video auditions will be accepted through the end of May for the upcoming 2017-18 Season, which will begin in September.
EAST COAST TOUR
In late June, AD2 will tour the East Coast, assisting companies in Georgia, Ohio, Connecticut, Pennsylvania and Washington D.C. by teaching masterclasses, leading community outreach events, and raising support.
The schedule includes:
– Atlanta, GA: Refuge Dance Company on June 19-21
– Cleveland, OH: Elu Dance Company on June 22-23
– Hartford, CT: Vivid Ballet on June 24-28
– Lancaster, PA: Cavod Dance Company on June 28-29
– Washington D.C: AD2 Outreach on June 30
ARTS CONFERENCE
Then on July 13-15, Ad Deum's Randall Flinn will be on the teaching faculty for the 2017 Karitos Worship and Arts Conference in Naperville, Illinois.
EUROPEAN TOUR
The main Ad Deum troupe will return to Europe for a missions-focused tour including special events, camps and outreaches in various countries. The dancers will performing in outdoor festivals, on the streets of various European cities, in prisons and in refugee camps.
The schedule includes:
– Paris, France: Project Dance on July 22 and 23
– Oxford, U.K.: C.S. Lewis Oxbridge Gathering on July 28-30
– Sofia, Bulgaria: Life Camp on August 13-18
SWITZERLAND INTENSIVE
Ad Deum will run a Summer Intensive in Switzerland on August 5-12 in partnership with Youth With A Mission (YWAM.) Participants will take classes in hip-hop, jazz, modern, contemporary, physical theatre and ballet. Registration is now open.
For more information on all of these events, visit www.danceaddeum.com.
Photo: Ad Deum Dance Company in performance. Photo by John Newinn Photography.